Meet The Team
The Fulcrum management team is one of the most highly regarded group of managers in the sector and has considerable experience of developing excellent new primary care buildings in partnership with the NHS.
Led by Director Richard Ashcroft and CEO of FIG Sarah Beaumont-Smith, all senior managers have hands-on experience of running NHS LIFT Companies across the country.  In addition they each bring specific expertise ranging from NHS senior management to quantity surveying and accountancy.
To find out more about each of the key managers click on the image below.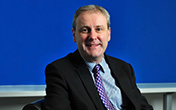 Sarah Beaumont
Chief Executive Officer
Oliver Hannan
Chief Operating Officer