Case Study
White City
re-energising urban spaces
A public-private partnership between the NHS, a local authority, a housing association and the Fulcrum Group has produced a stunning development in West London. The White City Collaborative Care Centre - which will be home to several different health and social care services – will sit alongside a community pharmacy, a supermarket and 170 flats, providing affordable housing for local people. It is the most complex and ambitious project tackled by Fulcrum Group under the NHS LIFT programme. The centre will open in early 2014.

Click to zoom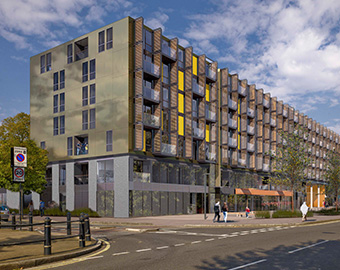 The Collaborative Care Centre offers much more than new facilities for existing services – it is at the centre of a local regeneration programme.  Different organisations pooled their expertise – and their determination – to provide better services for local people.  They formed a strong partnership and worked through the planning, design and construction programmes together.  Looking to the future, the new partnership will lead to better and more closely integrated services.
Two aspects of the project stand out.  First, consultation with local communities about the development began early and continues today.  Local people shaped the plans, and it means that the new services were designed with local people in mind.  Second, the partners took every opportunity re-design services and look for economies of scale.  The Centre will, therefore, provide more streamlined and relevant services, and at lower cost.
Key Facts
Additional space to more than double patient numbers
Health centre, pharmacy, supermarket and modern housing
Testimonials
This new health centre is central to our plans to develop integrated health and social care services for the residents of White City.

Dr Tim Spicer, Chair, Hammersmith and Fulham Clincal Commissioning Group

This is an exciting time for White City, for all who live and work in the area. The centre will offer vital services designed to meet the needs of the neighbourhood.

Councillor Nick Botterill, Leader, Hammersmith and Fulham Council
Results
The centre extends the range of care for people with long term conditions such as asthma and diabetes.

4 GPs practices and their primary healthcare teams working in a 3,400 square metre, purpose built health centre.

170 new affordable housing units offering a mix of shared ownership and low cost market discount properties.

Improved integration of health and social care and better access to services for families with disabilities.

The relationship with local community groups is very important – the partners will work to preserve and develop it.
Download full case study >