2.03.2013
Major Regeneration Project for White City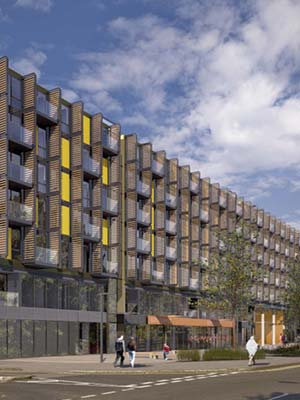 An event was held today [9th May 2012] to mark the first breaking of ground to start work on the new White City Collaborative Care Centre, a major regeneration project in Hammersmith and Fulham. The £46m project includes a Primary Health Care Resource Centre with space for three GP practices, accommodation for Adult Social Services, 170 new apartments for social housing, shared ownership and private housing and some retail facilities to White City and major improvements to the local park.  The project has been developed by Fulcrum, a leading developer of community and primary care premises, under the NHS LIFT[1] programme working in partnership with NHS Hammersmith & Fulham, London Borough of Hammersmith & Fulham (H&F) and Notting Hill Housing Association. The scheme is an example of successful multi agency collaboration which delivers state of the art facilities to deprived urban areas.
The centre will provide a wide range of health and social care services and have GP capacity to register 10,000 patients initially, growing to 25,000 patients if needed.  Other services to be provided at the new centre include dentistry, minor surgery, podiatry, community nursing and health visiting, social work services, services for children with disabilities, speech therapy, mental health services, and physiotherapy.
The White City Collaborative Care Centre is unusual for NHS LIFT projects because of the scale and ambition of the scheme. From the outset, Fulcrum have worked with its NHS and Local Authority partners to develop an integrated project that would bring different parties together in a scheme worthy of playing a key role in a much wider regeneration project.  Greater ambition brings greater complications when developing building projects and it is a tribute to all of the key parties that they worked in a transparent and supportive fashion to bring this scheme to fruition.
Richard Ashcroft, Chief Executive of Fulcrum said: "It might have been easier for us to pursue a simple stand-alone primary care project but we could always see the strategic importance of a larger, integrated project for the local community and we wanted to support the aims and vision of our partners.  The way that we have all worked together to design the building, the legal agreements and the delivery structure has been exemplary."
Dr Tim Spicer, Chair of NHS Hammersmith and Fulham Clinical Commissioning Group, said: "We believe that we have developed a building that will bring a range of health and social care services that will bring real benefits to the residents of White City and is a credit to all of the local people and community groups that have worked with us and our partner organisations to turn it into a reality."
Cllr Stephen Greenhalgh, H&F Council Leader, said: "Integrated health and social care services are at the core of what this marvellous new centre will deliver. Now that building work has begun White City residents can look forward to an enhanced range of health services being provided right on their door step. Along with the new housing, community facilities and revamp of Wormholt Park this scheme is vitally important to the future health and well-being of all White City residents."